Publicity
Review of Lydenskabs gastronomical concert at the Holmboe Festival.
"Food and music quite literally performed together in a unique journey of sound, flavours and pleasure. The evening ended as any succesful concert should: with standing ovations. Combined with full stomachs and the memory of superb gastronomical notes"
Read the full review in Horsens Folkeblad here: Holmboe Festival (Link)
POP UP Concert hall in Odder. See the mention here: POP UP koncertsal i Vita Park

INTERVIEW FOR GRAMEX. Lydenskab. February 2012. Read the full interview here
SEISMOGRAF reviewed the Lydenskab "On the Track of Sound" at Athelas Festival.
By Jesper Steen Andersen
"On the Track of Sound" was maybe the most significant example of a performance going of in many directions, while also being forthcoming. The Danish ensemble Lydenskab had created a performance with light effects, costume and a carismatic guest performance. Musically the perfomance travelled from introverted soundpieces to what I in lack of a better word would describe as modern theatre/performance celebrations.
The concert opened with "Den fyrste som eg høyre fekk" by Eyvind Gulbrandsen staged in 90% darkness. The knowledge that the audience were being watched from behind by a lighted sextet of mannequins with installed speakers, gave a powerful impression. And the fact that many of the spectators did not realise this made it even more powerful in a slighty snobbish way. The music was quiet, distant, atmospheric, Sigur Ros-like, horizontal and – dare I write it – very Nordic. http://eyvindgulbrandsen.dk/eyvindgulbrandsen.dk/den_fyrste_song.html.
The piece by Henrik Budde, "Terribly Cold and Nearly Dark" also had a poetic and quiet quality. As in "The Little Match Girl" (Helmut Lachenmann has played a similar trick in his opera about her) the lighting of matches gave a glimpse into another musical world. A brightly lit and clear world in contrast to the distant, quiet and dark universe that persisted when the matches were not lit. A composition with a very effectful and solid idea, that however could do with a bit of cleaning up. The unlit world tried a bit to hard, one might say.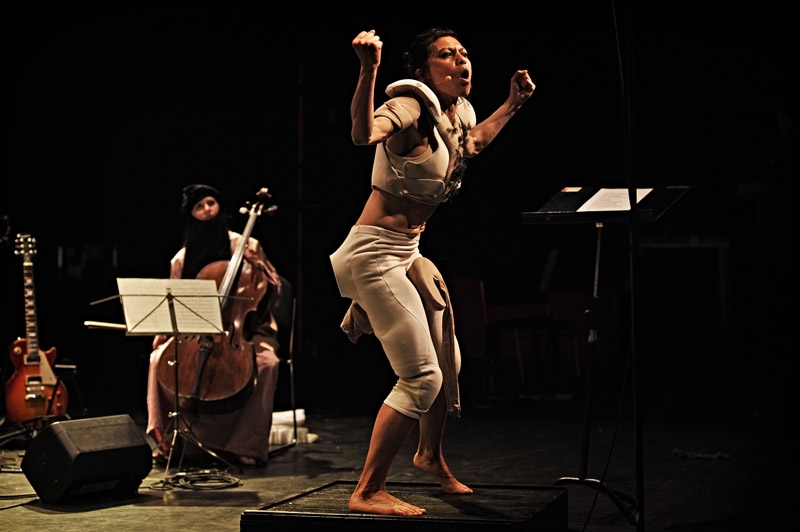 The performance artist Lilibeth Cuenca as the front figure of Lydenskab, photo: Alexander Banck-Petersen.
The concert finished of with the performance artist Lilibeth Cuenca. It is quite the scoop for Lydenskab to have incorporated her. The theme was men and she was dressed as such. From suit clad singer to a priest preaching mens rights, to a dancer singing in German with drums on his behind (imagine, if you will, Josephine Baker). "Ich bin böse und sauer" was the cry. The music did not present itself very strongly, but the idea may have been to keep it as an accompaniment to the performer, who drew a lot of the attention.
It is my clear impression that Lydenskab is set to conquer market shares, since they place themselves in a field which shows a deficit. It was my first encounter with them, but based on this one performance their goal is to promote the areas of contemporary music, that do not display the signs of elitism and self centeredness, to an even larger extent than for instance Dygong. They definitely have the potential to reach new audiences, and it is therefore an added bonus,that they primarily work with young, Danish composers."
Mention of "Dagligstuekoncert"

P2 from The Danish National Radio did a segment on Lydenskab in reference to their POP UP Concert hall. You can have a listen by clicking here
Interview in the periodical Basunen. You can read the article here.

Amateur footage from our latest production with Madhosmads – the master chef Mads Valentin. Listen here

From May 30th till June 5th Lydenskab seized one of the emtpy shops in Aarhus and invited people in for a bit of Contemplation, Empathy and Encounters. In a closed down greengrocery Lydenskab brought the interior back to life with new content. Classical music could be experienced up close in short, intense performances, that made use of dream machines, soundbugs and digital media art in an interplay with the classical musicians of Lydenskab.
Lydenskab invited the public to witness their rehearsals and drop by for one of the many concerts that were given during the week.
Composers: Morten Ladehoff, Kristina Holgersen, Line Tjørnhøj, Gorm Askjær. Digital media artist: Signe Klejs.
Venue: CHRISTIANSGADE 32, AARHUS C
See press clippings here.

Interview with Lydenskab for Gramex
Gramex: Interview with Lydenskab
Can you give a short presentation of the idea behind Lydenskab? What kind of need did you notice, and what did you aim to achieve with your project?
Eskild Winding: Lydenskab promotes classical music within a new framework. Our main purpose is to break down the traditional idea of the concert hall and create a different and more present communication of classical music, as a way of achieving a greater connection and interaction with the audience. In our view, classical music should be relevant and communicate an experience of presence. And that will happen when "the distance" between audience and performers is shortened or, ideally speaking, vanishes.
Our vision is not a response to a particular need, it is more the result of a sort of desire to express ourselves musically in contemporary and alternative ways. The need and justification for an ensemble such as Lydenskab has become clear to us after having worked together as an ensemble for just about a year; the interest from both the media and musical industry with regards to our contribution to the Danish musical scene has been great.
How did people receive your project? Are you met with goodwill or resistance with regards to your reimagening of the classical concert? What has been your greatest challenge/barrier?
We have received a lot of goodwill not only from foundations, who see opportunities in supporting our alternative projects, but also from other established institutions, artists and composers. Right from the get go, we have developed a sound cooperation with the composer Line Tjørnhøj and AUT, and in 2012 we have a lot of exciting projects in the making, which stems from positive relationships with others who share our visions. You could say that our biggest challenge, and the area where most of our work has to be done, is with the administrative work concerning fundraising and project management. It is very time consuming, and a lot of waking hours that could have been spent rehearsing are swallowed up by that ever hungry hole. That is why we have created an administrative position – as "the 7th member of Lydenskab". That should give us more time with our instruments and spawn a lot more finished projects!
There is a lot of talk about how the boundaries between the various musical genres should be overcome, lately with the action plan for music by the Ministry of Culture. How does Lydenskab contribute to that vision?
It is important to be aware of genres. It is important to be aware of what each genre can do – their strengths and what they are capable of conveying on stage. In Lydenskab we are very aware of genres, but mainly with the goal of combining them as a way of communicating in new ways. It is not interesting to level out the genres, making them all alike, it is within the field of tension and differences that the interesting aspects show themselves. In the actionplan it is stated that "creative artists working in composition and hereby contributing to the movement of established boundaries between the genres, thus leveling the differences between classical and rhythmic artists" – should be supported. In that sense Lydenskab is a significant contributor, because we as classical musicians cooperate with several non-classical composers. But we are also involved with a row of classical composers who, with their music, are as much engaged in breaking down the barriers between traditional rhythmic music and classical music. It can actually be quite hard to discern whether some of the music we play in Lydenskab, is written by a classical or rhythmic composer. That is also why it is a bit odd that composers, who operate in that particular field of tension, now have to present themselves as non-classical composers, in order to be granted support in reference to the action plan.
Lydenskab has joined with a varied a group of composers and musicians such as Christoffer Møller, Nikolaj Busk, Line Tjørnhøj, Andrea Pellegrini, John Frandsen, Mzungu Kichaa and Kristina Holgersen. We take care to always expand our field of cooperation and seek out the encounters where genres are challenged and add something new to each other.
We work with cross-artistic expressions and cooperate with, among others, the dance duo Don*Gnu, the digital media artist Signe Klejs and at the moment we are involved in projects with authors Ursula Andkjær Olsen and Josefine Klougart and the artist Lilibeth Cuenca Rasmussen. A current project which exhibits the most cross-artistic elements, is the cooperation with master chef Mads Valentin, who interprets the music of Lydenskab in experimental gourmet cuisine in sensory stimulating musical dinners, where people are given the chance to be silent, to taste, experience and listen!
Where do you see the biggest potential with regards to classical music? Are we headed in the right direction? Can we do even better?
I am convinced that a lot of people are simply not aware of the fact, that they like classical music. They are not introduced to it at school, they do not encounter it at home or at work. Why then should they seek it out in a grand concert hall? If the music is communicated with presence, relevance and forthcoming, it can provide the listener with such experiences, that he or she will seek it out again. And maybe even venture into the concert hall for a night of Mahler.
That is why we in Lydenskab strive to go out and meet the audience on their own ground. We have done pop up concerts in the pedestrian areas of Horsens and Aarhus, and we have taken it all the way and created a concert hall in a residential building. The response to these concerts has been amazing. A natural intimacy and openness arises, making the audience very much a part of the concert. This in turn gives the musicians the very real experience of not creating an experience for the audience but with them.
I find that any good concert experience has to do with being able to feel the person behind the instrument. This is something that we are very much aware of in Lydenskab and we believe that it plays a central role in expanding the knowledge and appreciation of classical music.
A lot of people are doing excellent things to promote classical music. We are now seeing a lot of great and admirable responses to the challenge the Ministry of Culture has given the artistic scene. Copenhagen Phil has a way of presenting classical concerts that I find extraordinary, and it is done without selling out on the quality of the music and the performance of it, which is a crucial point when it comes to rethinking the framework for classical music.
In November Denmark witnessed the birth of the first commercially based radiostation dedicated to classical music, Radio Klassisk. In what way will it affect classical music and you as performing musicians?
First of all it will grant the regional orchestras a lot more air time, which of course is wonderful for them. It could also be interesting for the listeners, because you will now be able to experience the different profiles of the orchestras with regards to such factors as repertoire and the like.
Radio Klassisk has a declared goal of "promoting classical music in a contemporary, knowledgeable, passionate and entertaining way". Naturally, being a part of Lydenskab, I can only support that and hope that it will contribute to a renewed interest in and contemporary view of classical music.